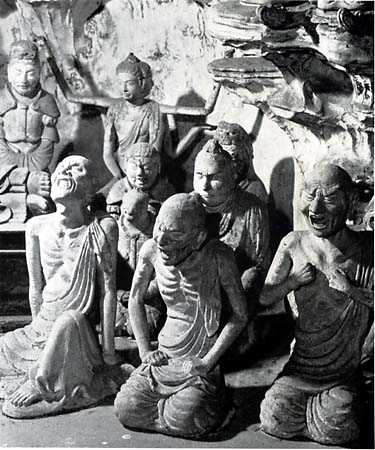 Photo source: Heibonsha Survey of Japanese Art, vol. 4, p. 139
Parinirvana (detail)
Five-Story Pagoda, Horyuji Temple
Ikaruga, Japan
Over 90 stunning miniature statues are displayed in four alcoves that are set into the outside of the pagoda's walls. They were created in 711 A.D. and depict four scenes from the Buddha's life. At the time of our visit (2000) they could only be seen unsatisfactorily, as the niches that contain them were very dark.
These four tableaux depict the Paradise of Maitreya (S), the Division of Relics (W), the Colloquy between Manjusri and Vimalakirti (E), and the Death of the Buddha (N). A detail from the Parinirvana is shown here. His disciples observe the death of the Buddha, some calmly and others with unrestrained emotion, according to their individual natures and spiritual development along the Path.
The small statues are constructed over wooden armatures that are wrapped with straw and then covered with multiple layers of coarse and fine unbaked clay and painted. They are endowed with a remarkable naturalism, as seen in this photo.