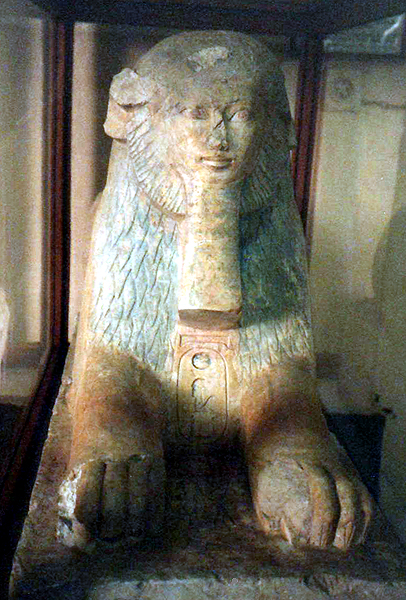 Sphinx of Hatshepsut
Painted limestone. New Kingdom
Egyptian Museum, Cairo.
Queen Hatshepsut (1498-1483), elder daughter of Tutmosis I and Royal Wife of her half-brother Tutmosis II, ascended the throne of Egypt in 1498 as co-regent with her minor stepson, Tutmosis III. Usurping the perogatives of Tutmosis, this remarkable woman ruled Egypt as Pharaoh for the remainder of her lifetime. Her reign was characterized by prosperity at home and peace abroad, due to her successful policy of "trade, not war." Her life-size sphinx, shown here, establishes Hatshepsut firmly in the long iconographic tradition of the kings of Egypt.