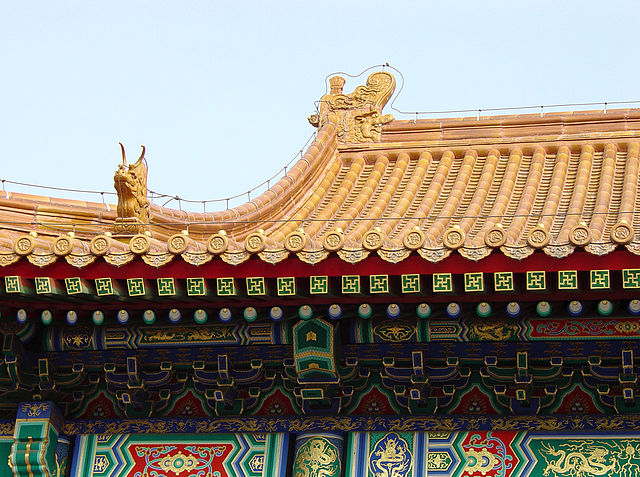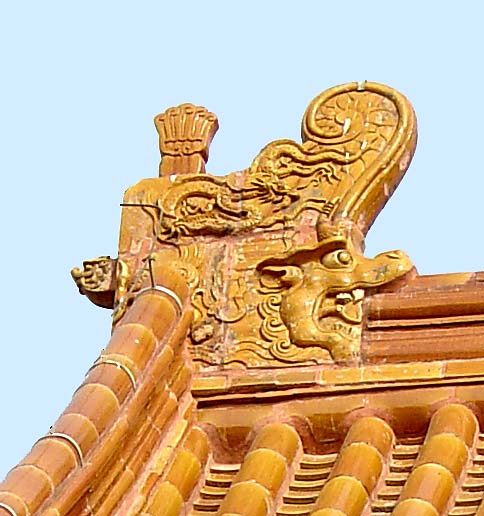 ---
Painted Decoration and Chiwen
Zhaode Men (Gate of Manifest Virtue), Forbidden City, Beijing (map)
The rooftops of traditional Chinese and Japanese buildings are anchored, at each end of the ridge, by paired akroteria that give the rooftop a distinctive "horned" profile when viewed in silhouette. They appear in China as early as the Tang dynasty. During the Ming and Qing period, they often take the form of a creature called Chiwen, as seen here.
Traditionally considered to be one of the nine sons of the dragon, the Chiwen is a dragon-form creature with makara-like elements. Its outsized head bites the end of the ridge, while its small body winds around behind and above the head. A large floral curl rises from the creature's forehead, and a feathery ornament sticks up from its back. The significance of the back ornament is not really known; interpretations include a sword pommel, or an owl's tail. The motif looks vegetal to me, perhaps a bundle of marsh stalks uncurling, in keeping with the watery theme.
The Chinese dragon is a creature associated with all bodies and forms of water; it swims in rivers and lakes, and plays in the skies during thunderstorms; thus, it is well-suited to protect buildings from lightning strikes, fires, and destructive winds.
Zhaode Men is the small gate (photo) to the east of the Gate of Supreme Harmony.
---